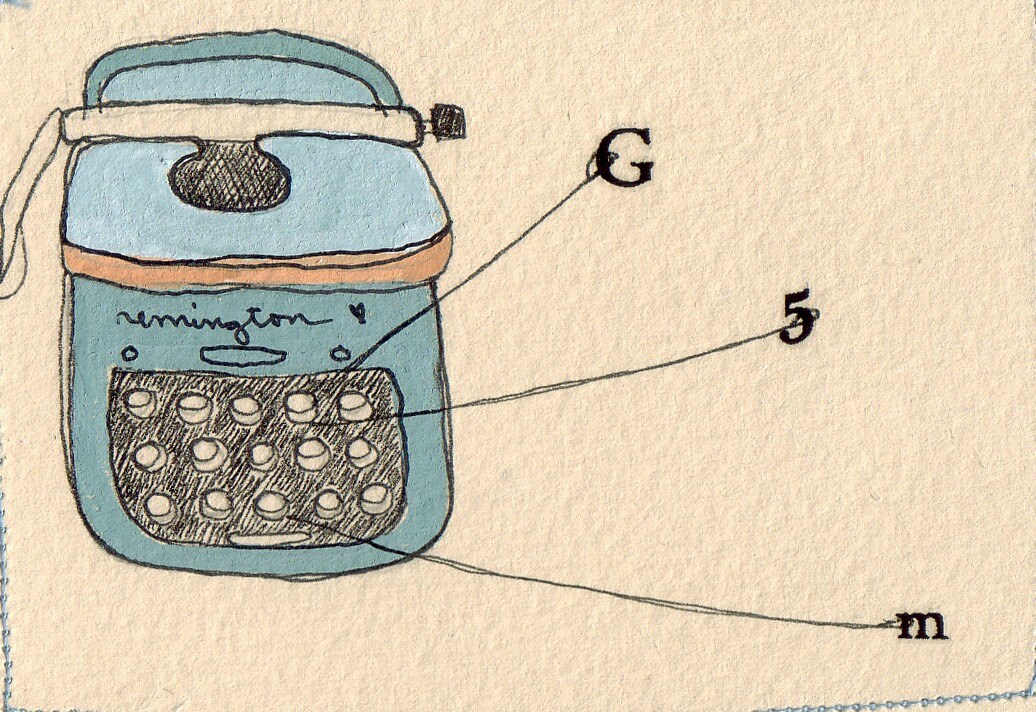 I bought this little piece of art almost 3 years ago on
Etsy
. It's 2.5 x 3.5...ink on watercolor paper and has some machine stitching. The artist is
Michele Maule
and I just love her work. (FYI...she has no idea who I am or that I am writing about her.)
Admittedly, when I first bought it, I was just drawn to the old typewriter. The letters and numbers really didn't mean anything to me. I loved the typewriter...I loved the blue...and the stitching...and it was also nice that it was an affordable original. So I made the purchase. Once I received it I tucked it away with a stack of other frameable pieces I'd collected for the wall of art collage I would have in my home "one day".
OK...so "one day" came last week when Aaron Bros. had their "buy a frame get one for a penny" sale. I took advantage of that, bought some nice frames, and went to work on a collage wall for our hallway. (A much needed project that I'll share pics of soon, too...)
Anyway...after I framed this little piece...titled "I want.."...I was admiring my handiwork when I noticed a few things. I noticed that the letters and the numbers were very significant and meant something huge. Ready?
The capital G...stands for God.
The number 5...symbolizes grace.
The little m...is for me, Michelle.

I love that the number 5, or grace, is between me and God...almost as if He's covering me with His grace.
As I was showing Chris my plan for the collage wall (7 or 8 framed pieces laid out on our bed) I told him about my discovery of this little art piece. He made a pleasant ,"Huh!" sound...and then said, "Aaaand...it's a typewriter.", and shot me a raised eyebrow as if to say, "Ya know...because you like to write."
Isn't that so cool? It makes me happy every time I walk past it. God's grace...where would I be without it?
"But by the grace of God I am what I am.." 1 Corinthians 15:10