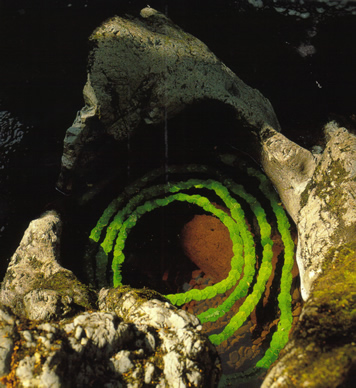 leaves woven together with thorns.
 I learned about Andy Goldsworthy while taking my first online college course. He's an amazing artist. He creates every work out of all natural materials...leaves, sticks, rocks, snow, ice, sand, moss, trees, flowers...incredible sculptures. And for the most part, every one of them is temporary. He builds them in nature...in the elements...sometimes even racing tides to complete the work before the sea comes to wash it away.
Beautiful. Unbelievably beautiful.
There is an excellent documentary about him,
Rivers and Tides
, that I was able to borrow from my local library (so I imagine you can, too!). If you like art...and nature...and quiet ideas...and deep thoughts...then I think you'd like Goldsworthy and his art as much as I do.