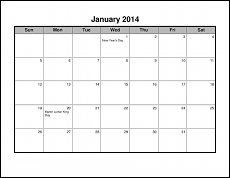 sorry it's a little blurry!
Last year I found a notebook style calendar organized by months of the school year...August to August. I liked it. It worked for me. But then this year I couldn't find one again. So...I decided to wait and get a planner for the new year.
In the meantime, I needed calendar pages...for date keeping, for appointments, and for the weekly menu.
Enter
Calendars That Work.
I have been printing out blank calendar pages and paper clipping them together and it's been working splendidly. Granted, it's not as cute as some calendars are, rather it's very utilitarian...and that's OK. I needed a job done, and these pages do the job.
Maybe someday I will add them into a nicely organized binder with cute tabs and handmade pockets made from cute scrapbook papers. But until then, printed pages and paper clips are working for me.
And now...on to the menu plan.
This week I decided to plan the menu for
two
weeks rather than just one. I did this for a few reasons: one, I had a lot of meal ideas; two, I am on a tight budget and wanted to make sure I used what I have on hand; three, I wanted to test it out and see if it was twice as helpful planning for two weeks as it is planning for one week.
We shall see
.
This is what we will be eating for the next two weeks...
MON: Pork Burritos with Guacamole
TUE: Leftovers
WED: Pot Stickers/Rice/Broccoli
THU: Clam Chowder/Corn Bread
FRI: Potato Skins/Salad
SAT: Pinto Beans with Ham hock/French Bread
SUN: Pork Tenderloin/Roasted Potatoes/Salad
MON: Chili/Corn Bread
TUE: Leftovers
WED: Ravioli/Salad/Bread
THU: Tamale Pie/Salad (using leftover chili)
FRI: Deluxe Quesadillas
SAT: French Toast/Bacon
SUN: London Broil/Fried Rice/Green Beans
There ya go...two weeks of meals. And would you believe I have all but salad fixings and french bread? If I do this right, I should only need to buy milk, salad fixings and fresh fruit, breads, frozen fruit and juice for smoothies, and cheese.
And now that I list it out, it seems like more than I planned. But I've got to be realistic. I am feeding hungry men around here!
This does not include lunch items for the boys. But the plan is to make muffins and homemade granola/snack bars. This does include lunches for Chris as he has been taking leftovers almost every single day. I eat leftovers for lunch, too, when I get home from work.
So let's see how this works out. I am feeling good about it.
Now, to post it on the fridge so everyone knows "What's for dinner!"